LEGIS Concise Notes: Industrial Hygiene and Litigation Support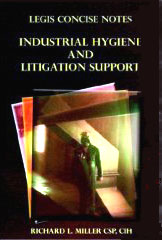 ISBN: 9781881043218
Legis Concise Notes is at Amazon.com

Written for environmental professionals--including those engaged in litigation support; and for anyone wanting to refresh their knowledge of industrial hygiene technical information.
Includes:
More than 3000 concise notes on Exposure, Toxicology, Sampling and Analysis, Chemistry, Dispersion Modeling, Heat Stress, Radiation, Ventilation, Statistics, Illumination, Ergonomics, Noise, and Asbestos/Particulates;
Special sections on Daubert challenges and causation;
Fifty important Industrial Hygiene formulas;
List of known and potential endocrine disruptors;
OSHA guidelines for Serious, Willful and Criminal Willful violations;
Comprehensive index with more than 1600 entries.
A complete list of chapters is here. A DIRECTORY of EXAMPLES is found here.