U.S. Atlas of Nuclear Fallout 1951-1962 Abridged General Reader Edition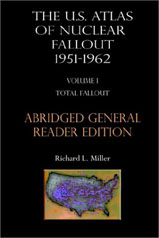 ISBN: 1-881043-13-4

The U.S. Atlas of Nuclear Fallout 1951-1962 Volume 1 was dense with information, but we wanted to know what the average reader thought about it. So we sent it to librarians around the country, among them, Wendy Bossie (Caribou ME), Symma Zerkow (Houston, TX), Patty Gross (Council Valley, ID), , Kathleen Adam (Shenandehowa, NY), Bev Russel (Scottsbluff, NE) and Arlene Ott (Cody, WY.) All read the book and responded with thoughtful reviews. All said the book was thorough, but probably too technical for the average reader. Thus began the General Reader Edition Project in which Volume 1 of the Fallout Atlas would be turned into a book understandable by the average reader.
The task turned out to be more difficult than expected---and took much longer to complete. But by early 2002, the manuscript was ready to send out to the librarians. They all pronounced the new version much easier to understand. The U.S. Atlas of Nuclear Fallout 1951-1962--General Reader Edition was officially published in May, 2002.
TheUS Atlas of Nuclear Fallout 1951-1962 Volume I Abridged General Reader Edition
is currently available at Amazon.com., however this edition does not include information from the Hardtack II series or shot Baneberry (Dec 18, 1970.) For that information, you should consider the 2006 edition
.
A complete list of our technical books on nuclear fallout is found here..